Office Sharing in Berlin
with St. Oberholz
Are you looking for an office with a flexible term and low rental costs? Then office sharing is certainly a sensible alternative. St. Oberholz is your expert in Berlin for offices with an existing IT infrastructure, optimal technical equipment, office management and many other services. With us you are sure to find the right office for your needs and those of your employees.
Even if the term office sharing suggests otherwise, this office concept does not primarily focus on sharing or joint use of workstations, but above all on flexibility. With office sharing, space can be booked completely according to individual needs for a self-determined period of time. Whether months, weeks or even hours – as an entrepreneur, you only pay for the planned period of use.
This is a particularly useful option for startups or self-employed people who, for financial reasons, cannot commit to a property in the long term, but need or want to use it from time to time. Office sharing is primarily a service offered, as the premises are usually fully furnished, IT infrastructure is available, and qualified personnel can be booked from the provider to manage the office.
Your possibilities
with St. Oberholz
St. Oberholz rents out numerous spaces itself and brings landlords and people interested in the topic of office sharing into contact with each other. Whether you are looking for a flexible office in Berlin or Potsdam, you want to make your own space available temporarily, or you just want to find out more about office sharing, St. Oberholz offers numerous options and modern office concepts.
Finding offices in Berlin
Finding the right office in Berlin is anything but easy without the appropriate help. However, with St. Oberholz you can choose from a large pool of potential premises. When it comes to office sharing, it makes sense to know in advance what requirements need to be met in order to work effectively. Among other things, the (technical) equipment of the office, the location of the property, the size or even the number of rooms required should be taken into account.
Managing interim leases for real estate
Owners and landlords who want to make their property temporarily available (e.g. for office sharing, coworking, flex office, etc.), but do not have the time or desire to take care of the work involved, are welcome to place this task in our responsible hands. St. Oberholz will take care of your real estate and manage everything that is involved in interim leasing.
Advantages and disadvantages
with office sharing
One of the greatest advantages of this concept is the short notice with which office sharing can be used. This means that users of this service can concentrate fully on their actual work, while the provider takes care of the time-consuming details. The costs are kept within reasonable limits by office sharing.
In addition, it is very customer-oriented in many respects, e.g., due to the often central location and good accessibility. The biggest disadvantage is that the tenant has no say in the existing office furnishings and may have to put up with noise pollution from other tenants.
| Advantages to Office Sharing | Disadvantages to Office Sharing |
| --- | --- |
| Short-term use of fully furnished office space | Potential for conflict due to proximity to other tenants, e.g. noise pollution |
| Low financial costs | No influence on office furnishings |
| Flexible lease term | Orientation to other people's house rules, which may not be in line with your own principles |
| Usually in a very good location | No build-up of assets / possessions |
| Networking with other users | |
| Focus on actual possible work | |
Coworking, shared offices and home offices are sensible alternatives to office sharing. All of these options score points by providing flexible workplaces. In coworking, people whose professions have nothing to do with each other in terms of content work at the same workplace, either independently or on joint projects. The great added value of this office concept lies in the mutual, continuous exchange with the other users of the coworking space.
Office communities are relatively similar to coworking, except that the professionals working there have more overlap in terms of pure content. This form of workspace sharing is mostly used by the self-employed or freelancers. They benefit from the shared use of work equipment and personnel. Finally, home office has gained in importance and popularity, especially due to the Corona pandemic. Here, workers save time and money, since the basic technical requirements are met and time is saved for commuting to work.
Coworking
Several people from different areas and companies work at the same workplace. Besides the low costs, the advantage is the possibility of continuous exchange.
Learn more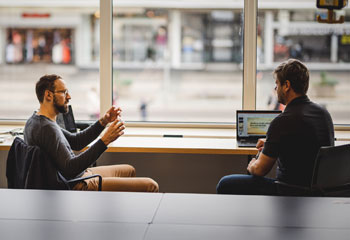 Office communities
Similar to coworking, except that people from similar fields share the same workspace. This is a popular office concept for self-employed and freelancers.
Learn more
Are there any
unanswered questions?
Are you looking for the right office concept or suitable premises? Do you have further questions about offices in Berlin that have not yet been answered? No problem! Just contact us and we will try to clear up any ambiguities.