Hu·man·ka·pi·tal
/Humánkapital/
Substantiv, Neutrum [das]WIRTSCHAFT
Arbeitsvermögen; Gesamtheit der wirtschaftlich verwertbaren Fähigkeiten, Kenntnisse und Verhaltensweisen von Personen oder Personengruppen
Ted Young-Ing ist Creative Director von AER Scents, auch bekannt als Accord Parfum.  Zusammen mit Stefan Kehl, Head of Perfume und Perfumer Amber Richey haben sie ihre Liebe für Parfüm und besondere Düfte zum Beruf gemacht. Seit 2018 duftet es im St. Oberholz am Rosenthaler Platz im Treppenhaus ganz geheimnisvoll aus ihrem Office – oder sollten wir es lieber "kleine Duftmanufaktur" nennen?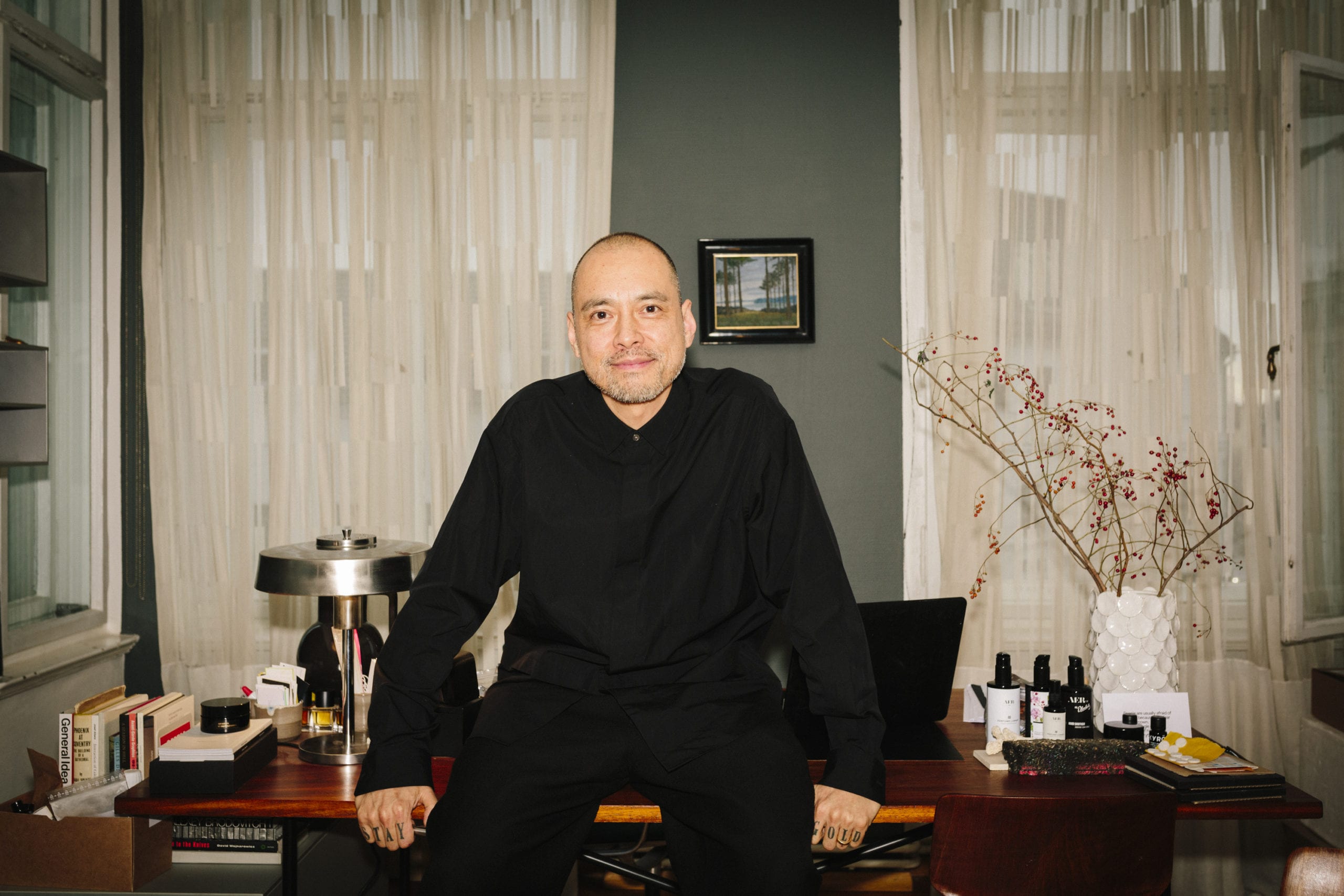 How do you usually enjoy your coffee?
I am a friend of flat whites. We're doing vegan January, so I am currently taking oatmilk flat whites.
When did you know that you felt called to produce unique, sustainable and natural perfumes yourself and set up your own company together with Stefan?
Stefan (my cofounder) and I have been friends for a long time. Stefan had been interested in perfumes since he was a child, and had been experimenting with blending his own scents. I could not find the right perfume so I asked him to help me. We went through all the perfumes at KaDeWe, but none of them felt right, because I was looking for something that was super complex, modern, interesting but also ethically sourced and natural so  I asked Stefan to make me one. It was amazing and it ended up becoming our Accord No. 01: NAGARMOTHA.
What is the vision behind AER?
There has to be a reason to create a new brand. It needs to offer something new, unique or in a way that's different than any other product. We created a perfume brand that was natural but also modern and done without compromise. We look at the traditions of perfume making, we look at how perfume was made thousand years ago but we create scents that are relevant now. We tried to make a brand that was without compromise: we use the best-quality ingredients we could find, always ethically sourced, and used to create really modern, interesting scents.
Are common perfume brands rather unsustainable?
Perfume as a category is not particularly sustainable. Most commercial perfume ingredients are mainly synthetic. And most synthetics come from petroleum, petroleum derivatives, made in a lab in a chemical process. When commercial brands use natural ingredients there's no way to tell if they come from sustainable, fair trade sources. It often means that the ingredients  are bought cheap and ending up being sold very expensive, with a lot of exploitation in between. We create our own recipes, and do all our own sourcing (most brands can't say this), so we know where and how our ingredients are grown, and who is harvesting the ingredients.  We make sure that we trace back to the source, to the farmers, know how they grow and harvest and how their people are paid.
Do you think that a requirement for sustainability is also a reason why your customers choose AER products?
I think it is both, our perfume and this consciousness. People choose a perfume because of the smell, of course. But we live in a time where you can not separate a product from how it is made. Consumers want to know more about their product and what is in it.
Did it mean a lot of change and did you perhaps have to give up something in order to found and develop AER?
Of course! I am a fashion Creative Director by trade. Starting AER, as with any other founding, you basically throw everything that you can into it. All your time and all your resources. We left our day jobs behind. Our "brand nursery" is now three years ago. Actually it took more energy and time than we ever thought it would, but we're very proud of where we've gotten it.
What was your marketing strategy to establish your products on the market?
We first launched our brand three Decembers ago at Markthalle Neun at the Christmas market, where we had a little stand. And we thought we had made  enough perfume to sell for the three weeks of the market and for the next months. But we sold out during the first week! That is when we started getting really excited, because we were so overwhelmed by all of the positive feedback. 
When we started going to stores to try to sell our perfume and a lot  of them told us to come back in five years – if we're still around. So we knew we needed to make the AER brand  appear very developed and thought through, like a brand that had been around forever and you just hadn't heard of it. We spent a lot of time making sure we looked right. It seems to have worked, we're now sold in all these great fashion stores, concept stores and perfumeries around the world!
How would you describe your target group or main customers?
AER is a niche brand and it appeals to true perfume lovers. We think we have a pretty educated customer:  people who know what they like in perfuming and who want to try something new. We know it's not a brand for everyone. Our first four scents are perhaps more masculine but we see our perfumes as genderless.
What is the secret behind a really good perfume?
The ingredients. You can have a medium quality product and make it better by just adding better ingredients. And when you take a great  formula from a perfumer and you make it with inferior ingredients, you will have a perfume that will smell just… bleugh. But a well-constructed perfume with amazing ingredients ­­- it will be incredible!
What inspires you when creating a fragrance or perfume?
We don't have these old school narratives and we don't do silly stories. We focus on our ingredients, how we source them and how we mix them. For example our new scents Accord No.07: Orris Root started when we found a really incredible Tuscan Orris Root resin,. The iris flower doesn't have a particularly interesting  smell, but when you store the root for some years it develops a powdery, rich, luxurious, creamy, notorious smell.  We knew we had to construct a perfume around it. You need to have a sense to not touch or disguise the main ingredient, but accent  it with other ingredients to bring out different aspects in the ingredient. That is what makes a complex and original perfume.
Which scent wakes up a particularly dear memory inside of you?
I was born in Canada. I didn't spend much time of my life in Canada but when I smell pine, it brings me back to a Canadian forest, surrounded by these huge trees, with this kind of moistness in the air and it makes me feel comfortable and centered. In fact, Stefan grew up in the Black Forest so he has a different connection to pine. A lot of our products have a little bit of pine in them.
Has it ever happened that you walked through town and you recognized your perfume on someone?
Yes and the first time was definitely THE moment for me. I was walking behind someone in Berlin and they were wearing No. 04: Cedar and I needed to stop myself from jelling "Oh that's my perfume!".
What is actually in these many small packages that are delivered to your office on Rosenthaler Platz every day?
We do a lot of research for new materials and we get a lot of samples in. Every time we are about to create a new perfume, we start doing a frame recipe for it and trying to find the right notes. For example let's say, we want a rose note, we need to find the right rose for that particular perfume. So we are asking maybe about 20 suppliers and they will send us tiny little bottles with rose absolutes. So it's boxes of little bottles of perfume ingredients!
What advice would you give to founders of a manufacturer label?
When we started we were making a lot of mistakes and this was the most frustrating but also  the most educational part of our launch. Just do it! Get started. You have to get it out there. Don't try to make everything perfect, because when you wait for your product to be perfect the market will have changed.
AER sitzt aktuell in unserem Flex Office Space am Rosenthaler Platz
Noch mehr von AER Scents hier.