St. Oberholz Rosenthaler Platz
St. Oberholz was founded in 2005, today it entirely takes up what was the old Aschinger building. The café extends from the ground floor to the first floor. Above the café, you'll find our members-only coworking spaces, team rooms, conference rooms and apartments. Startups that have gone on to great heights started out with us and we've also acquired quite a collection of interesting artefacts lost and found.
Founded in 2005
Area of 600 sqm
Top speeds of 240 kph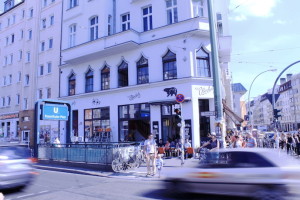 St. Oberholz Helmholtz Platz
Originally called Meze, our little St. Oberholz CAFÉ was founded by Koulla Louca in 2002. It is here that everything started. Today the location is regarded as the little sister to its bigger St. Oberholz brother on Rosenthaler Platz. You'll find our speciality coffee on sale here too, alongside the obligatory WiFi connection and probably the best analogue magazine collection north of Torstraße (NOTO). You'll also find one of our apartments tucked away in an idyllic little courtyard out the back.
Founded in 2002
Area of 80 sqm
Top speeds of 80 kph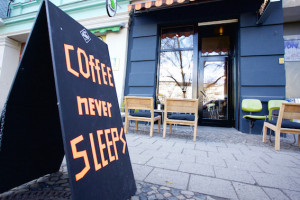 St. Oberholz Zehdenicker
Our latest addition to the St. Oberholz family was opened in 2015 and is located only two blocks away from Rosenthaler Platz. It is physically and conceptually a true extension of the St. Oberholz at Rosenthaler Platz. You'll get great views of Torstraße from here, too – but from a completely different perspective. You'll also find our specialty coffee in the café on the ground floor, along with coworking spaces for members, team rooms, conference rooms and apartments located above. Coworkers may use both the Zehdenicker and Rosenthaler locations.
Founded in 2015
Area of 550 sqm
Top speeds of 160 kph