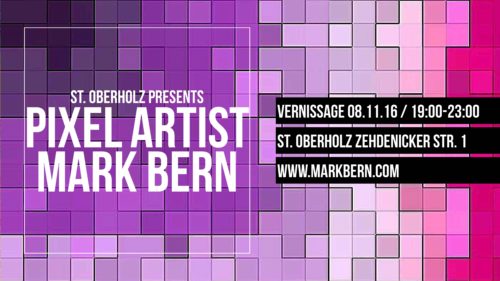 In November St. Oberholz Presents Pixel Artist Mark Bern! On the 8th of November his exhibition opens at St. Oberholz.
Before focusing on art, Mark Bern was an internet entrepreneur who founded and exited several web companies. For the past 20 years, he has been investigating the methodology of digital image processing. In his early day as a teenager Bern explored the possibilities of image manipulation on his first computer – a Commodore 64. His artworks uses the several digital processes to create abstract forms resembling pixelated photos and the late cubism, a form of art that Bern refers to as pixel art. Bern has been creative without showing his artworks to the public over 20 years. In 2013 his first public art collection "Marbella" was released and in 2014 his work evolved into 3D printed pixel art sculptures.
On Tuesday, November 8th Mark Bern will be present at his vernissage at the Coffee Lab at Zehdenicker Strasse 1, with both hanging art as 3D-printed-art. We invite everyone to come by!